Kima Ventures >> Q4 Review & 2016 Preview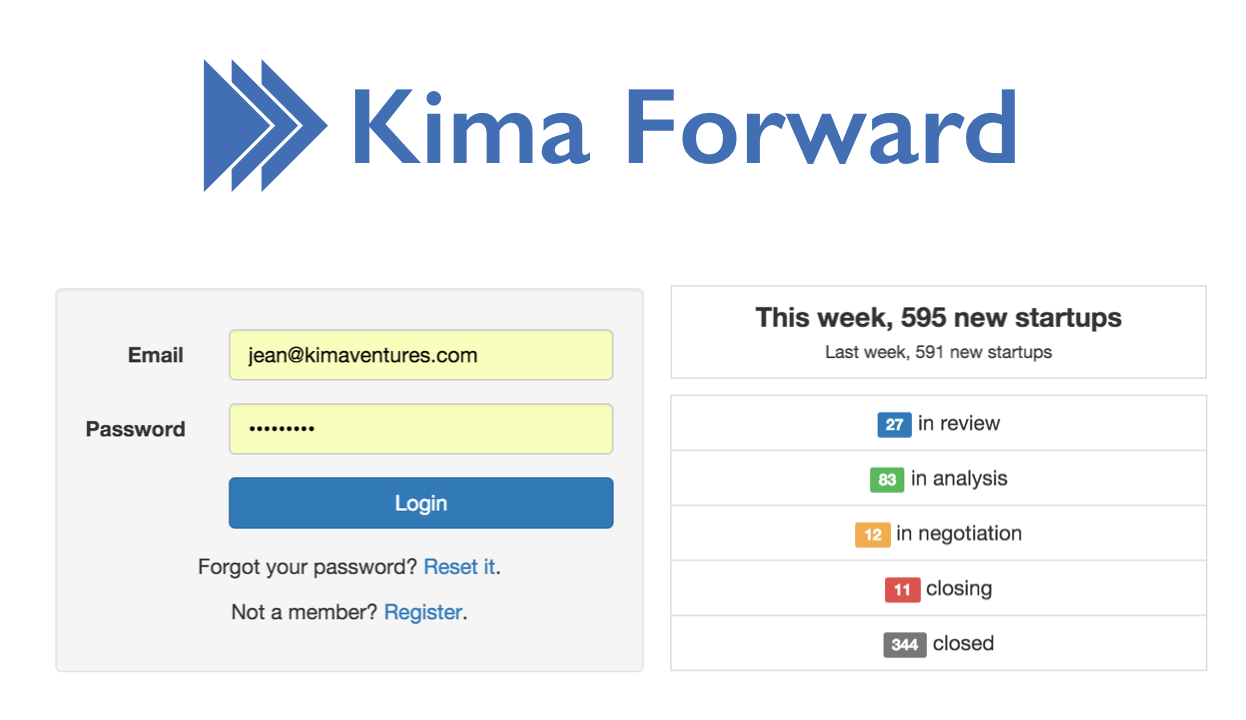 I joined Michel and Vincent at Kima Ventures on September 1st, 2015. Alexis, our Tech Associate, joined us on the 16th of November.
The past 18 weeks, we have received 10 897 new startups in our dealflow that is now reaching more than 1,000 new startups every week. We have validated about 40 new investments: 23 of them have been closed, 14 others agreed or signed and a bunch of them lost. To give you a quick heads-up for you to know where we stand:
Kima Ventures is 100% owned and funded by Xavier Niel.

We are a Super Angel, not a fund, closing 100+ new deals per year.

We lead or co-invest $100k to $300k +/- per deal, seed & series A.

Meaning we apply the power law to a distributed statistic model.

We focus primarily on the US & EU markets, but we invested and we will keep investing in the rest of the world as well.

We are sector agnostic (more or less…)
Our job is 80% uncertainty and our challenge is super simple to understand: we must fund and support the best entrepreneurs, on the long run. However, there are thousands of qualified deals all over the world and thousands of investors involved in those operations. Therefore:
We should not take our position for granted.

We want to stand out from the crowd.

We must step-up our game.
By design, our capacity and ability to support the founders is limited: we are a small team and our primary mission is to detect and fund great entrepreneurs. While founders are the ones executing their plan, our job is to share patterns & behaviors, to apply common sense to situations and circumstances, to ask questions in order to trigger the right actions and to connect founders to the right people. So here is the plan for Q1 2016 !
For everyone: We are going to release Status, a simple page on which you will be able to see the live status (and a weekly history) of our dealflow and portfolio. You'll be able to crunch our data, see how busy we are and how our dealflow is moving from one stage to another (Review > Analysis > Negotiation > Closing > Closed | Rejected).
For our founders: We are building a super simple and efficient platform called Forward. Founders will find ressources, perks, people, services and also tools to optimize the process and maximize the impact of recurring actions like hiring or reporting.
I'm currently alpha testing functionalities with a bunch of founders since a few weeks. We should release a beta by mid February and a V1 by end of March.
For the rest of the community: First, you will see more and more Stories from our founders with actionnable insights. We will publish a new story from founders of our portfolio every 3 to 4 weeks and then move to at least 2 stories per month.
Second, we will publish more content toward founders, about Kima and the VC world in general. We will open AMA sessions for founders to reach out to us besides the classic introductions or any other random way…
Resolutions taken. Actions in progress.
Cheers :)